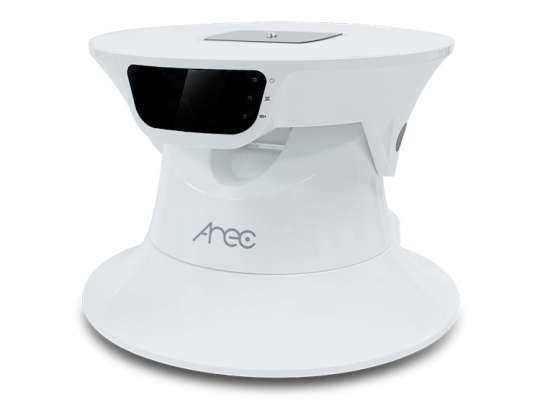 TP-100
Product Highlights
Compatible with Diverse Types of Video Cameras, AREC TP-100 Can Automatically Pan/ Tilt Camera to Follow a Moving Lecturer/ Presenter
Accurate and Smooth Tracking Performance. Superior Continued Smooth Movement even in Situations where a Presenter is Wring on a Whiteboard or Close-up Shots
Automated Tracking and Orientating. No Interference from any Other Object or Person
Able to Start/Stop Tracking by Button Controls of the Positioner
Enable to Move and Work between Meeting Rooms Freely
Working with AREC media station, the Positioner Can Become Your Wireless Microphone to Record the Presenter's Voice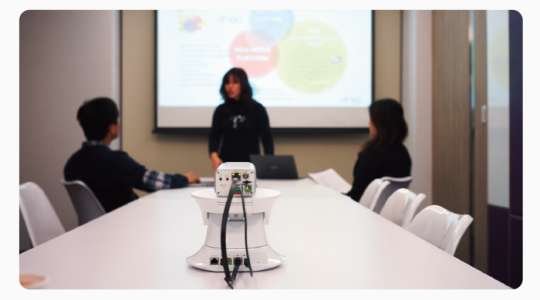 FILM YOURSELF WITHOUT HELP FROM A SECOND PERSON
AREC TP-100 Auto-Tracking System, adopting AREC new-generation motion-sensitive tracking technology, makes tracking automatically and precisely in both indoor and outdoor environments. Supporting horizontal and vertical movement, TP-100 enables accurate tracking within a 12 meter radius, and is unobstructed by the surrounding object movements.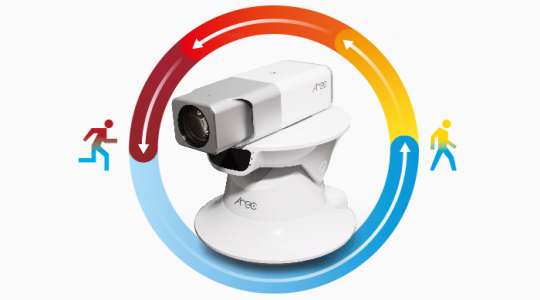 ACCURATE AND SMOOTH TRACKING PERFORMANCE
In order to capture lecturer's best performance, AREC TP-100 provides superior continued smooth movement even in close-up shots, just like a professional cameraman control. It's the ideal device for self-capture your lecture, instructional videos, or presentations.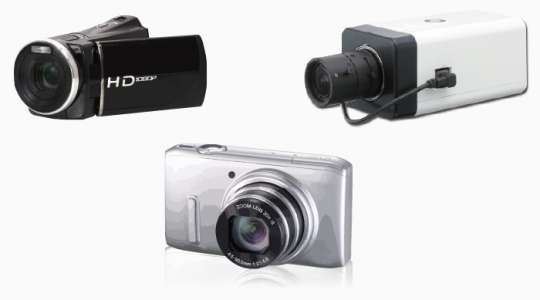 COMPATIBLE WITH DIVERSE TYPES OF CAMERAS
With standard camera quick shoe design (1/4" 20 UNC), AREC TP-100 Auto-Tracking mount is compatible with diverse types of camera, including network cameras and camcorders. (Bearing capacity: 800g)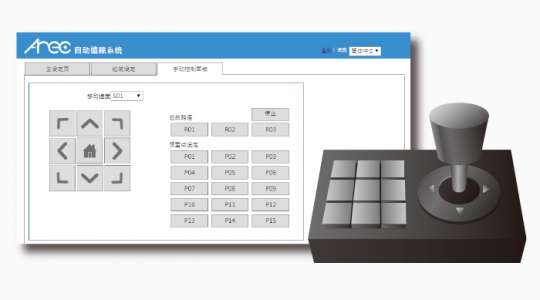 SUPPORTS DUAL CONTROL MODES: AUTO & MANUAL
To provide convenient user experience, AREC TP-100 supports auto and manual control modes to accomplish tracking recording.
Auto mode: tracking the target automatically without any assistance.
Manual mode, IP web-based: through web-based interface to control
Joystick control, RS-485: supports standard Pelco-D/P protocol
SPEC/ MODEL

TP-100 Auto-Tracking System

AUTHORIZED OPTIONAL CAMERA

AREC Fixed Box Network Camera

VIDEO COMPRESSION

H.264

COMPATIBILITY

Standard camera quick shoe- 1/4" 20 UNC

AUTO-TRACKING TECHNOLOGY

AREC's motion-sensitive tracking and continued smooth movement technology

AUTO-TRACKING RANGE

2~12m, works with AM-600;
Pan/tile rotate: 355° pan, 60° tilt (-25°~+35°)

MANUAL OPERATION

Webpage control / via TP-100 setting page or AREC media station online director
Joystick control via RS-485 interface

CONTROL PROTOCOL

HTTP: API
RS-485: Pelco-D / Pelco-P

DIMENSION (L X W X H)

190 x 180 x 137 mm

WEIGHT

880g (1.9 lbs)

BEARING CAPACITY

800g

POSITIONER

AM-600

CONTROL BUTTONS

Power / Tracking On-Off/ Microphone Pairing / Mute

EFFECTIVE DISTANCE

Working Distance: 2-12m

POWER SUPPLY

RTSBuilt-in rechargeable lithium battery

POWER INPUT

126.7 x 151Micro-USB port

POWER CONSUMPTION

4 hours, after fully charged

DIMENSION (L X W X H)

82 x 40 x 18 mm

WEIGHT

70g