SG-1T
When your organization (ex. company, university, medical institute, etc.) grows, it tends to open new branches. However, the need for instant communication and collaboration becomes increasingly important and critical. To provide effective team communication and collaboration, SpacesGate SG-1T, a new and innovative Media Collaboration System, changes the way we engage in a project meeting or remote training. SG-1T system can bring people together from different places for audiovisual communication, content sharing, collaboration and recording in the same time, enabling remote meeting or training in an effective and user-friendly way.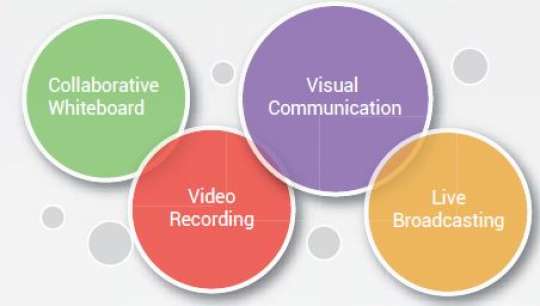 Collaboration, AV Interaction, Lecture Capture All in One Device
SpacesGate is a powerful and innovative all-in-one Media Collaboration System that combines simple collaborative whiteboard, visual communication, lecture recording and live streaming features. Through SG-1's single user interface, you can easily create a high-quality and all-new collaborative and productive experience for remote brainstorming, project meeting and distance learning.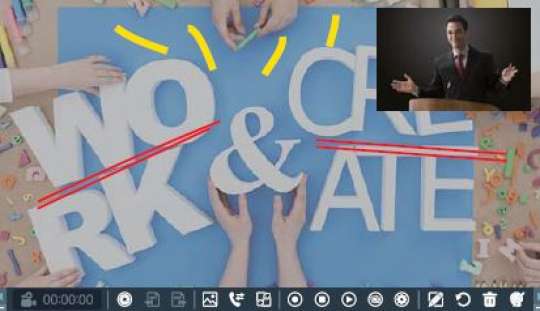 Intuitive and Easy-to-Use
SpacesGate comes with a well-thought graphical user interface that
allows users to easily operate SG-1/SG-1T features, such as video source switching, video conferencing, collaboration, recording and streaming.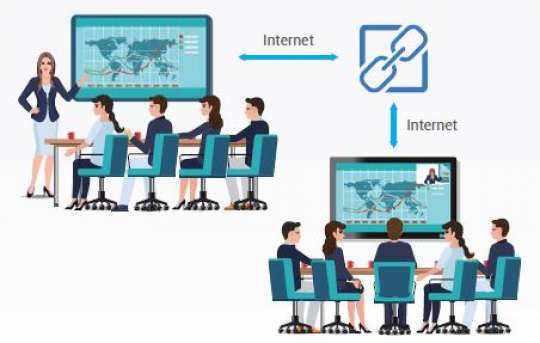 Remote Conferencing and Collaboration in Real-Time
After connecting a designated remote space with SpacesGate, users can start an audiovisual communication and screening sharing in real-time. Through the conference mode of SG-1/SG-1T, the drawing on the display can be viewed on another screen in remote space synchronously (supports on image and dynamic video). SpaceGate allows remote teams work together easily and efficiently just like being there.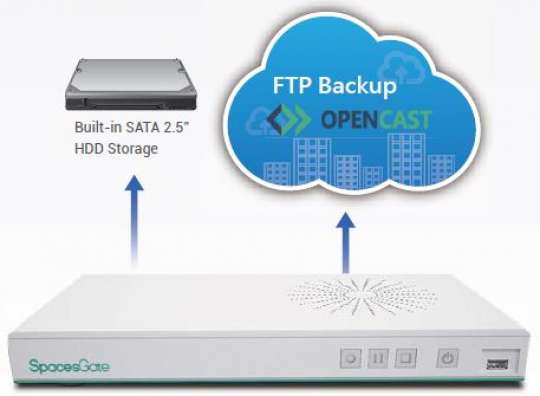 Recording. Backup. Easy Integration
With internal 1TB hard drive, SG-1/SG-1T allows users to record and
playback meeting videos. To increase security, SpacesGate can automatically backup or upload recordings to FTP, SFTP, Opencast and others.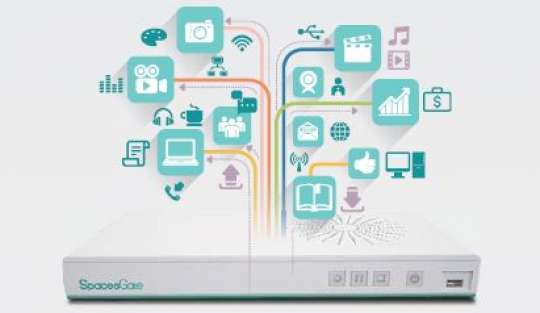 Snapshot. Bookmarks. Video Manager
During the meeting, users can take snapshots at any time to save the
ideas. While recording, the snapshots also can mark the important
moments of the video automatically for easy finding the part later. Built-in Video Manager, administrators can manage videos stored in the SG-1/SG-1T device remotely. With available APIs, all of the video content, metadata, and thumbnail can be delivered seamlessly for third party integration.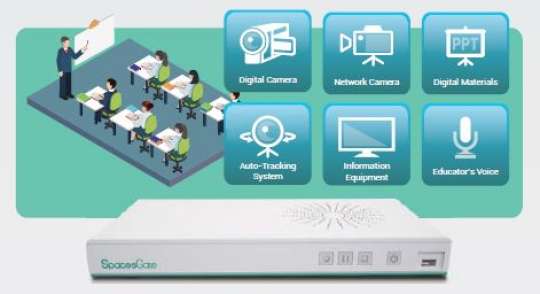 Implementation and Vertical Markets
SpaceGate Media Collaboration System can be combined with existing
audio visual equipment, such as presentation sources, cameras, and
displays (including projectors, interactive whiteboards or touchscreen
monitors). Users can easily install SG-1/SG-1T in a classroom, meeting room, huddle room, medical environment or any spaces where people discuss topics and create ideas.
Media Collaboration System

SG-1T

Content Channel

2x HDMI / 2x VGA selectable inputs

Camera Channel

1x HDMI / 1x VGA / 1x RJ-45 (supports network camera and IP steam) selectable inputs

Resolution Range

HDMI: 480i~1080p60 / VGA Video: 480i~1080p60 / VGA PC: 640 x 480~1920 x 1080

Compression

H.264/ AVC

Frame Rate

Max. 30fps

Bit Rate

300Kbps~4Mbps

Bit Rate

300Kbps~4Mbps

Resolution

Max. 1080p (640x360 ~ 1920x1080)

Audio-In Channels

1x 3.5mm Stereo Mic in / 1x 3.5mm Stereo Line in / 2x HDMI /
1x UAC (USB Audio Class) input (16-bit 48 kHz audio)

Compression

AAC-LC

Bit Rate

80Kbps~320Kbps

Built-in Touch Screen

10.1" 1280x800 TFT LCD
PCAP Touch Panel

Video Output

1x H.264 / AVC digital video over Ethernet
1x HDMI output for display (with on-screen GUI)

Output Resolution

1080p60

Audio Output

1x 3.5mm Stereo Line out / 1x HDMI / 1x UAC (USB Audio Class) output (16-bit 48 kHz audio)

Streaming Delay

1 sec.

Compatible Streaming Input Protocols

RTSP, RTP, RTMP

Streaming Output Protocols

RTP, RTMP (RTMPS), RTSP

Note: 1. users can choose 1 output option from RTP or RTMP only
2. RTP: MPEG2-TS over RTP unicast; MPEG2-TS over RTP multicast
3. RTSP (TCP/ UDP): Max 6 clients
RTSP streams available via public URL (example: pulled streams)

Built-in Local Storage

1TB 2.5" SATAIII