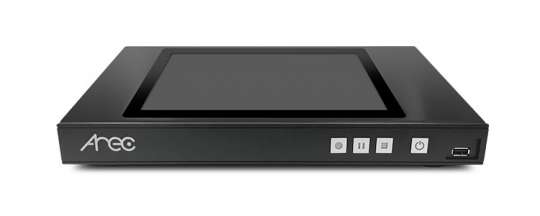 Media Station KL-3WT
Product Highlights
All-in-One Device with 10.1" Touch Panel to Offer Up to 3 Full HD Video Sources Capturing, Mixing, Switching, Recording and Live Streaming
Wire-Free and Portable Design for Easy Move and Place
HDMI, VGA, RJ-45, Streaming, and Compatible Wireless Inputs
AREC Online Director: Easily Add Background Images, Overlays and Change Video Layouts in Video Making
Broadcast Your Mixed Video to up to 2 Platforms Simultaneously
Built-In Video Manager: Remote Management
Available APIs for Software Server Integration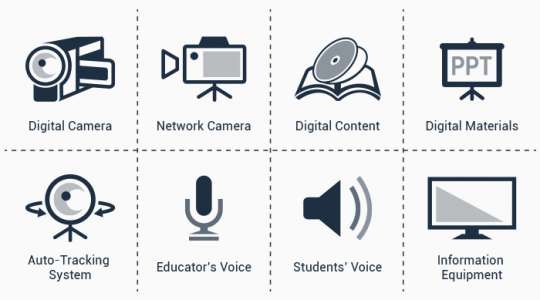 CAPTURE UP TO 3 VIDEO SOURCES AT THE SAME TIME
Lecture Capture
KL-3WT supports capturing up to 3 video sources through HDMI / VGA/ RJ45 interfaces. Through suggested video streaming app, KL-3WT also can receive live videos from iOS or Android smart phone and tablet. It allows users to add a video source via mobile phone camera or other novel device, such as tablet or drone. With audio support, KL-3WT can mix audio via HDMI, 3.5mm stereo and AREC wireless microphone.
* To receive a live video from your mobile device, please apply necessary settings in advance. Please refer to KL-3WT user manual for more details.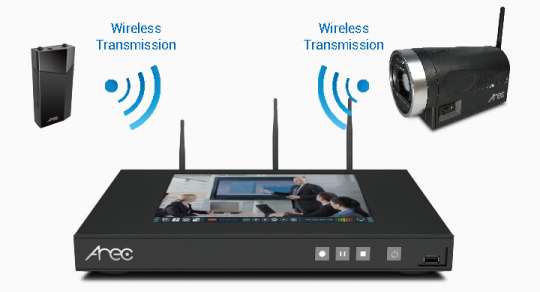 WIRE-FREE AND PORTABLE DESIGN FOR EASY
Built-in WiFi module, AREC KL-3WT is a wire/wireless, portable and all-in-one Media Station. Compatible with AREC Wireless Microphone and optional AREC cameras, AREC KL-3WT makes it simple and convenient to stream and record multi-sources events in demanding portable applications.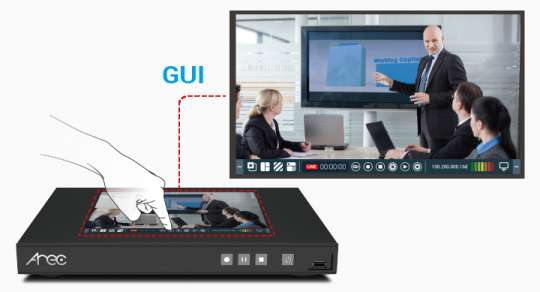 TOUCH-FRIENDLY ON-SCREEN GRAPHICAL USER INTERFACE
Coming with 10.1"touch screen and built-in a touch-friendly graphical user interface (GUI)*, KL-3WT allows users to start or stop recording/streaming, change recording layouts, and switch video content with easier control.
*The on-screen GUI supports mouse device control through USB connection.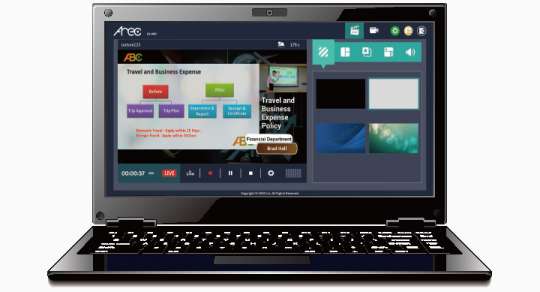 REAL-TIME ASSISTANT IN VIDEO MAKINGREAL-TIME ASSISTANT IN VIDEO MAKING
With AREC Online Director, KL-3WT allows users to be in control of their recording/streaming. It also makes users easily switch between sources, add or remove backgrounds/overlays, and change layouts/themes.v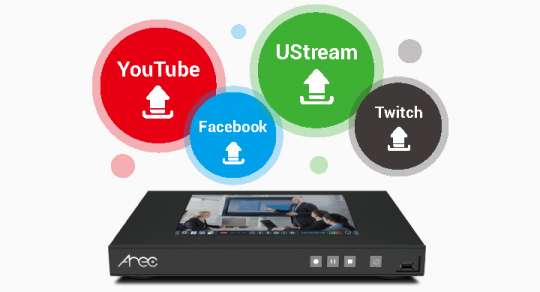 BROADCAST YOUR MIXED VIDEO
KL-3WT can stream mixed video to up to 2 platforms simultaneously, such as YouTube, Facebook, Twitch and other live broadcasting websites.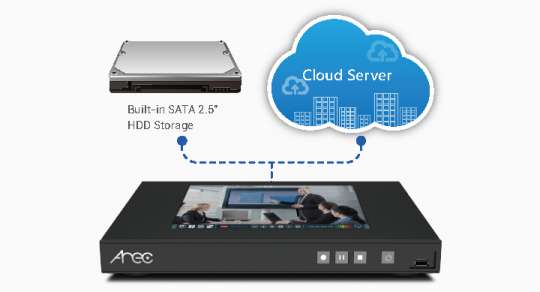 BUILT-IN HARD DRIVE STORAGE & BACKUP
KL-3W allows saving recording videos on the internal 1TB hard drive. To increase security, LS-300 can automatically backup/upload recordings to AREC MediaCenter, FTP, SFTP, Opencast, Panopto, and Kaltura.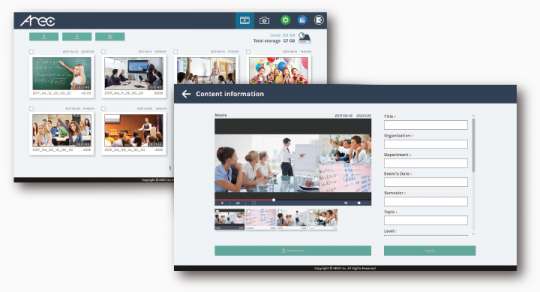 REMOTE MANAGEMENT. SIMPLE TO INTEGRATE
With the built-in Video Manager, videos stored in the AREC Media Station can be managed remotely. Designed to work in network environment, AREC Media Station has an HTTP API that provides access to many functions in Media Station. All of the video content, metadata, and thumbnail can be delivered seamlessly for the server software integration.
MODEL NAME

AREC KL-3WT

MAX. VIDEO-IN CHANNELS

3

VIDEO INPUT INTERFACE

HDMI*2 / VGA*2 / RJ-45*2

BUILT-IN WIFI MODULE

Yes

AUDIO INPUT INTERFACE

3.5mm Stereo: 2 channels;
Wireless Mic: 1 channel;
HDMI: 2 channels

VIDEO ENCODING RESOLUTION

Max. 1080p (640x360 ~ 1920x1080). A variety of resolution can be selected

VIDEO OUTPUTS FOR LOCAL DISPLAY

HDMI*1 (supports VGA output with bundled HDMI to VGA adapter)

AUDIO OUTPUTS

3.5mm Stereo line out: 1 channel;
HDMI: 1 channe

LOCAL STORAGE

1TB 2.5" SATA ⅢHard Drive

LOCALLY STORED FILE FORMAT

MP4

RECORDING MODES

1 mixed + 3 individual original

BACKUP AND INTEGRATION

FTP/ SFTP/ Opencast/ Panopto/ Kaltura/ AREC MediaCenter

LIVE STREAMING (RTMP)

2

VIDEO SWITCHER

Yes, through AREC Online Director (web-based and desktop applications)

VIDEO MANAGER

Yes, through web-based AREC Video Manager platform

RS-232 CONTROL AND HTTP NETWORK API

Yes