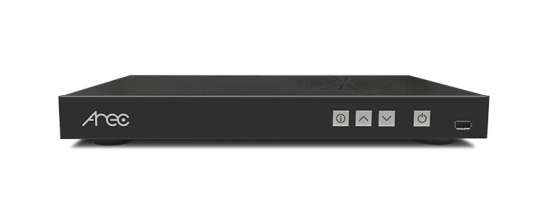 DS-X01
Product Highlights
Availability may vary by sales regions. Worldwide launch will be in February, 2020

Allows for Selecting Video Sources from Up to 99 1080p IP streams and 2 Local HDMI/VGA Inputs, and Displays via HDMI and VGA/Line-Out Output
Standards-Based H.264/AVC Video Decoding and AAC Audio Decoding
Embedded, Standalone Hardware Device without a PC
Available APIs for Integration
Adding Streaming Access Points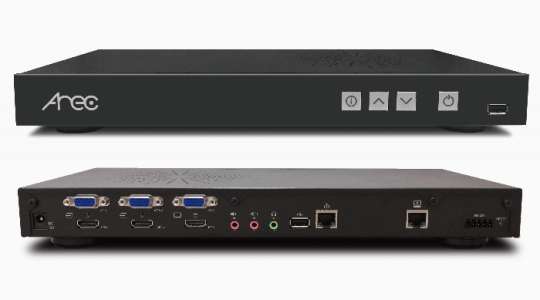 H.264 STREAMING MEDIA DECODER AND PLAYOUT STATION
AREC DS-X01 Playout Station is a high-performance, embedded and standalone device, enabling to decode video and audio over a standard IP network, connect local HDMI/VGA/3.5mm Stereo inputs, and output HD video via HDMI and VGA/ Stereo Line-Out ports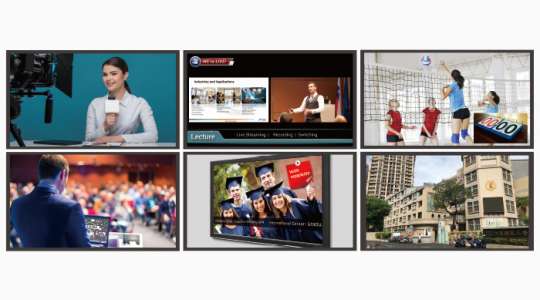 DISPLAY VIDEO SOURCES FROM ANYWHERE
AREC DS-X01 Playout Station can decode IP Streaming directly, making it easy to be viewed on the local display. The IP streaming video sources can be from anywhere via an IP LAN Ethernet connection, including campus studio, real-time lecture seminar at school, live events, streaming from CDNs, video-on-demand content, IP camera viewing for insect observation or environment monitoring, and campus security…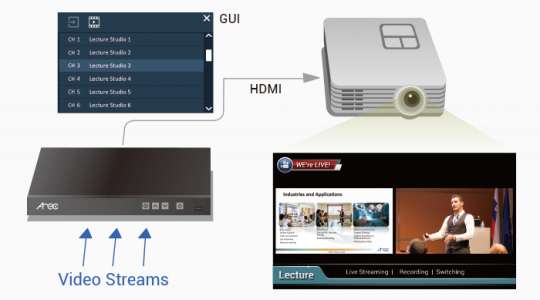 SIMPLE-TO-USE & EASY INTEGRATION
DS-X01 can be simply connected via a HDMI or VGA cable to any monitor or screen. You can use the front buttons of machine, on-screen graphical user interface, and external control device to switch output source freely. With available APIs, DS-X01 can be accessed seamlessly for third party integration.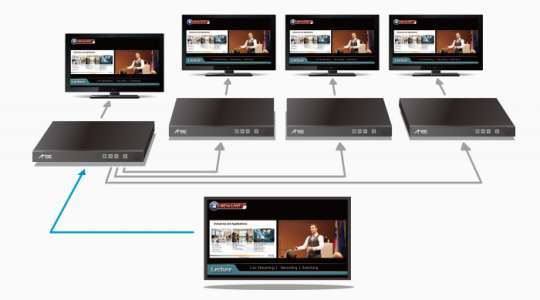 ADDING STREAMING ACCESS POINTS
With the built-in Live Streaming Server feature, every AREC DS-X01 in the network architecture can be used as another streaming access point for content delivery to reduce the load on the origin server and improve the viewing quality for the end users.
SPEC/ MODEL

DS-X01

INPUTS INTERFACE

2x HDMI ports
2x VGA ports
1x RJ-45 (IP streaming): up to 99 streams
2x 3.5mm Stereo line-in

COMPATIBLE STREAMING INPUT PROTOCOLS

RTMP/ RTMPS (video+audio)
RTP (video+audio)
RTSP (video only)

MAXIMUM DECODE RESOLUTION

Single channel, up to 1920x1080@60Hz

VIDEO COMPRESSION

H.264/ AVC

AUDIO COMPRESSION

AAC-LC

OUTPUTS INTERFACE

1x HDMI display port
1x VGA display port
1x 3.5mm Stereo line out
Note: on-screen GUI is selectable between HDMI and VGA display port

OUTPUT RESOLUTION

HDMI/ VGA: 1080p60

USB HID CONTROL

On-screen GUI supports USB HID control

EXTERNAL CONTROL

Supports RS-232 port/ TCP API/ HTTP API command for system integration

CONTROL BUTTON

Yes, at the front of the media station

ADMIN SETTING

Built-in admin setting web page