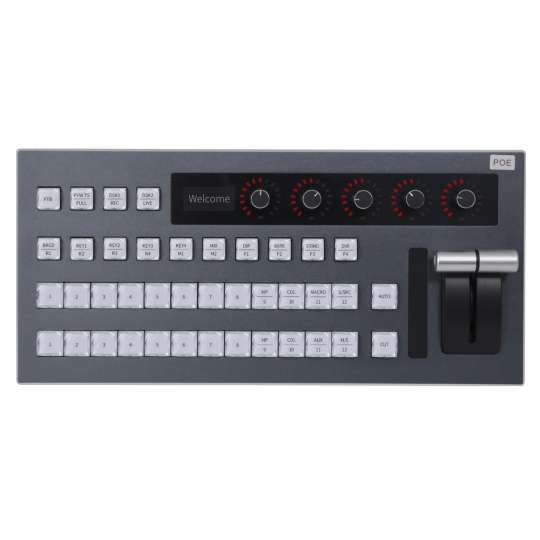 KT - KD50X
Integrated hardware design:
Easy-to-use ,fully embedded system with simplified structure, integrating director switching, audio adjustment and special effects & transitions all in one.
Brand-new upgrade function, custom combination to play more effects:
The brand-new upgrade ATEM function supports quick operation of ATEM popular functions such as S/SRC, MACRO, AUX, M/E, etc., and supports custom function settings to output.
Supports up to 12 channels of live video switching:
Both ATEM and vMix support 12 channel PGM+12 channel PVW live switching.
Built-in custom audio adjustment function:
Customized audio settings support Audio、 XLR、 MIC、MP and other multi-channel audio control functions.
Compatible with plenty of live broadcast software:
In addition to supporting ATEM series devices, it also supports MIDI protocol, compatible with Vmix and other various live broadcast software.Complete the control of functions such as directing, transitions, tuning, one-key black screen, etc., multi-purpose machine is more worry-free.
Support 24-channel tally output function:
Built-in DP25 tally interface, supports up to 24 tally signal output functions.
USB 2.0, LAN dual interface connections, simple and convenient:
Supports LAN and USB 2.0 drive-free connections ( Note: ATEM only supports LAN connection ), and can transmit video signals to computers and live video production software without a capture card, simple and convenient.
All aluminum alloy body:
Anodized aluminum alloy panel process treatment, outstanding quality.